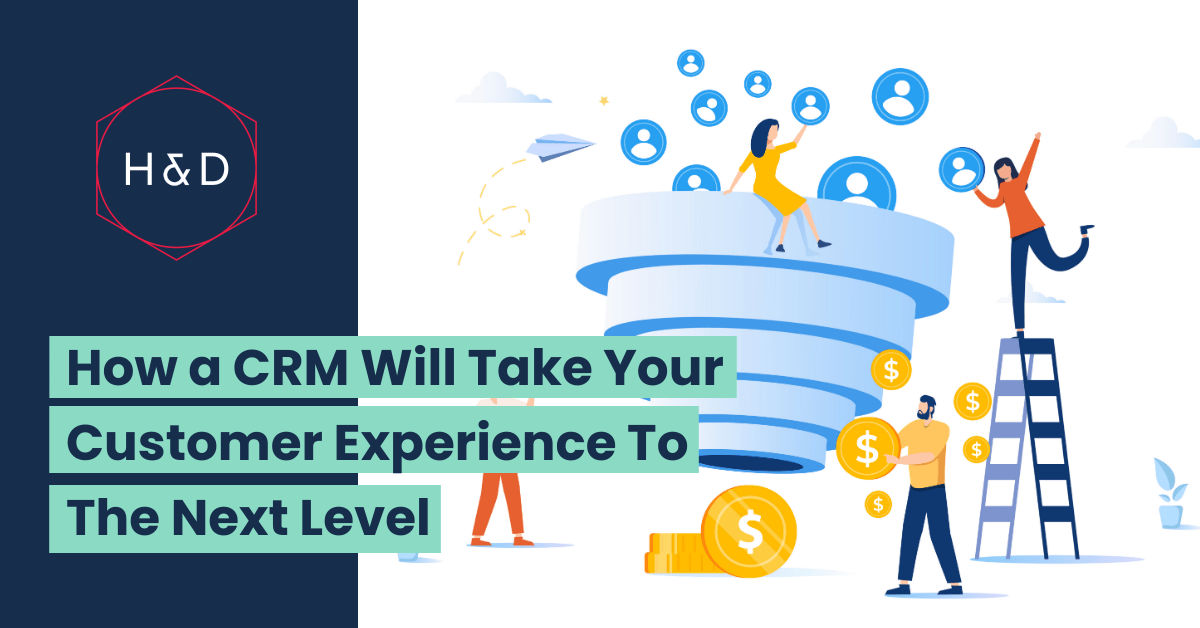 Tired of endless spreadsheets of customer data, and wishing there was a way you could integrate everything into a centralised hub that also enhances your customer experience (CX)? If that's a yes, then the solution to your problem is a CRM platform. Implementing a CRM is an area of Digital Transformation that businesses adopt to shift from a traditional approach to digital sales. To find out the other areas that digital technology could transform your business, check out our blog on - What is Digital Transformation?.
This article breaks down all you need to know about a CRM - what it is, why you need it, and how it works to enhance your customer experience.
What is a CRM and What Does it Do?
A Customer Relationship Management platform, or CRM for short, is the technology that businesses use to nurture relationships and manage interactions with potential customers. CRMs are often implemented with one goal in mind - to improve customer relationships which will, in turn, grow their business.
So what does a CRM system do exactly? A CRM system streamlines your business processes, allowing you to stay connected with your customers and improve on your ROI. It gathers data from your marketing, sales and service efforts and organises it into a central database for your business to access, and track a customer's progress in the sales pipeline.
With CRM systems providing your team with the confidence to find new customers and build strong long-lasting relationships, an excellent experience can turn them into an advocate for your brand. But with so many CRM platforms on offer, it can be hard to know what software you need for your business.
To help you with choosing the right CRM platform, use our Free Spreadsheet So You Can Compare CRMs to see if it's the right tool for your business and how to use it effectively.
A CRM system can help businesses achieve great results including:
Trigger-based Lead Scoring
Growing Business Size
Advanced Analytics
Detailed Reporting
What Are The Main Benefits of a CRM?
A CRM can digitally transform your business but you might be thinking - do I need one? There could be 10 or more reasons your business and salespeople need a CRM but below, we look at 4 major benefits that'll make you want to get a CRM as soon as possible.
Integrates Your Business with a Centralised Database
With a shared CRM, businesses have the right tools and data to effectively manage their customer relationships. It gives you clear visibility of all the customer interactions that occur across multiple departments of your business.
Identify and Categorise Leads
CRMs will help you identify new leads and categorise them accordingly. With a CRM system giving accurate data about your prospects and clients - your marketing team can focus on identifying leads that need more time to become quality leads and for your sales team to prioritize opportunities that will close. By using lead scoring, your sales team can decide who to talk to depending on what stage of the buyer journey they are in.
Increase Customer Lifetime Value (CLV)
Understanding your customers will help you develop lasting relationships through cross-selling and upselling opportunities and satisfy your customers with outstanding service. A CRM gives you insight into what stage of the buyer journey your customer is at - if their lead score gets bumped up, it prompts you to call them.
Customer Service Support
With customers now expecting fast personalised 24/7 support, a CRM platform provides high-quality customer support by giving them the solution to their problem quickly. Having a centralised system means that all of your support staff are accessing the same data, and having a system that tracks each and every customer interaction means your team will be communicating with existing customers more confidently.
To get a better understanding of how implementing a CRM solution can be beneficial for a business, we turned to our Chief Revenue Officer, Nick O'Neil, to get his take on how CRM platforms have helped our clients:
"It's helped stitch our clients' business processes together and gives us more visibility on them. We've helped to reduce their manual admin processes and get their salespeople going back to doing what they're good at - picking up the phone and converting customers. It's helped our clients remove sales friction so that they can focus on interacting and selling to their customers."
How does a CRM work?
CRM systems include features that can qualify leads and track your potential customers' actions across your website, email and social media channels. It automates mundane processes while also giving your business the tools to measure and track your performance. In addition to that, CRM's have analytical capabilities that let businesses track how efficient their marketing efforts have been in generating leads and conversions.
Now that we know how a CRM works, it's probably a good time to tell you why we use HubSpot. Back to Nick to see why he thinks HubSpot is a really good CRM platform:
"First of all - it's really pretty! Whether you're in marketing or sales, if it's ugly and hard to use, it will lead to low user adoption rates. HubSpot is pretty from a User Experience (UX) and User Interface (UI) point of view. It's intuitive and easy to use - and it's easy to train people of all ages to use it. It integrates with everything from G-Suite to Microsoft365, so there's no double handling. HubSpot allows you to be everywhere you need to be without being intrusive or evasive and adds value every step of the way. You can use 10% of it and get value. You can use 50% of it and get even more value. But if you use 100% of HubSpot, you've hit the jackpot!"
HubSpot is a great CRM platform that allows you to integrate a huge range of 3rd party applications. Integrating 3rd party applications into HubSpot offers you a centralised hub to view all the data that your tools capture - without having to scroll across multiple tabs. While there are a bunch of tools you can integrate - our CRO, Nick, gives us a few examples of 3rd party applications we've integrated with HubSpot that we use here at Hype and Dexter.
"There's a bunch of tools that you can Integrate with HubSpot. A few tools we've integrated are Aircall and SMS Message Media. Aircall monitors our calls for sales training, does call-routing for incoming and outgoing calls and captures all this data within the CRM. SMS Message Media sends out bulk marketing emails, sets appointments, sends one-to-one texts and triggers reminder text messages in the platform."
Alright then - now that you're ready for action, where do you start? Once again we asked our sales guru, Nick O' Neil, for some wise words of wisdom for anyone looking to get a CRM for their business.
What's One Piece of Advice You Can Give To Businesses That Are Looking For a CRM Solution?
"Start by doing your due diligence. Make sure your business is right and sort out your data. Have a sales process mapped out and understand it so that you at least have some idea of it.

Identify your pain points, requirements, what you want a CRM system to accomplish and set some SMART (Specific.Measurable.Achievable.Realistic.Timely) goals. These SMART goals can be around improving lead nurturing and conversion rates - or even something as simple as enhancing efficiency.

Understand your people and what they do. Lastly, the best piece of advice I can give is to talk to Hype and Dexter. It's as simple as that."

- Nick O'Neil, Hype & Dexter CRO
If you're thinking that it's time to introduce CRM software for your business, who better to talk to than Hype and Dexter? We've got some sweet automation in place to help boost your sales productivity.
We'll work with your sales team to map out your ideal sales process and help you achieve your goals through automated workflows, templates, snippets, sequences, playbooks and pipelines.
For more expert knowledge on how to develop a CRM strategy and implement it in your business, get in touch with us today!